Title IX Student Interns
Greeting from the Title IX team of interns! This year marks the second year that the UC Santa Cruz Title IX Office has student interns and the program is still growing. We are a team of undergrad and grad students from a variety of academic backgrounds. You can find our bio below. The Title IX office is committed to fostering a campus climate in which members of our community are protected from all forms of sex discrimination. Having student interns provides the office peer-to-peer perspectives when creating and presenting training and workshops to students and campus partners.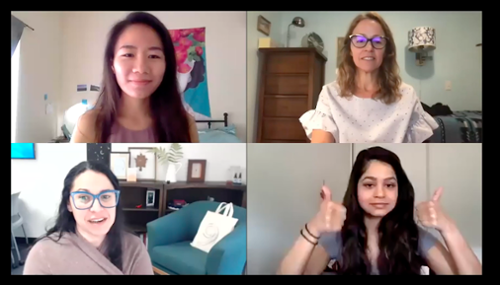 This year, our team welcomed over 3,500 incoming students through zoom webinars during the Undergraduate Student Orientation and Graduate Student Orientation. During the training, students learned about the reportable incidents, reporting options, campus resources and etc. 
Throughout the year, the interns work to promote and share relevant information through our social media and the Title IX website, in efforts to engage the UCSC  community and communication with our office. 
In addition, some interns lead the efforts to create workshops and activities to educate and empower the campus community in reducing SVSH related issues and to increase the awareness of affirmative consent.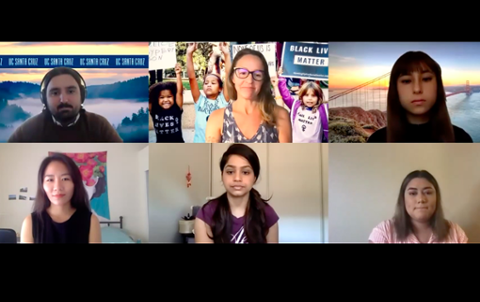 We encourage you to reach out with questions, interest in getting involved, and to provide feedback.    
                                                                                                                                                  Title IX team presented during 2020 undergraduate orientation
Read more about the student interns (Our contact info followed):                             
Kasey Zatarain
Legal Studies
She/her/hers
Coming from a Latinx family and community, I've seen the effects of victim-blaming and how internalizing this narrative can be incredibly damaging to a survivor. Oftentimes this fear of being shamed prevents many people from accessing resources that can help us better ourselves. People of color are less likely to report an incident and it is important for me as a woman of color to educate others about sexual violence and normalize reporting despite what our communities may have taught us.
I am passionate about working to diminish deterring factors that prevent students from reporting. When sex-based incidents happen it is important that students feel empowered and supported to report.  Many students do not realize just how helpful Title IX can be and I want to make this resource more accessible. This is why I wanted to work on improving our social media and remodeling our website to make Title IX more approachable for all members of our UCSC community.
In my free time, I love going hiking with family and friends, taking dance classes, and crafting.
Anna Wong 
Robotics Engineering
She/her/hers
I'm a third year undergraduate student at UCSC studying Robotics Engineering. I really hope to get into the human-computer interaction side of the robotics field. I think it's fascinating how robots and humans interact and figuring out how to best integrate robots and robotics into our everyday lives.
I joined Title IX because I am interested in expanding Title IX's inclusivity of the LGBTQIA+ community in workshops, presentations, and on the website. I am also very passionate about supporting the student body on campus and helping everyone feel as safe as possible while at UCSC. I think everyone deserves to feel safe in their community and aware of resources that can support them, so I hope the work I do supports that.
I'm currently running the Student Consent Workgroup. It is a very new project and I hope to have an ongoing collaboration with student groups and the UCSC community including workshops, flyers, student involvement, and maybe even a working website up and running by the end of this school year. So if you're interested in getting involved, please feel free to reach out to me at
anewong@ucsc.edu
. I also work on creating and designing presentations for Title IX, and I run the social media accounts with Kasey.
During my free time, I really like to experiment with different types of crafts such as crocheting or embroidering. I also really like getting outside and exploring campus.
Sona Kaur  
Psychology, Phd
She/her/hers
As a Social Psychology Phd student, my research examines different forms of violence against women and how we are socialized to normalize and romanticize such violence. Working with the Title IX office allowed me to go beyond examining these issues from an academic/research standpoint to understanding how they play out in more applied contexts. I also wanted to gain more experience with programming and prevention work around sexual violence and sexual harassment (SVSH). Developing and presenting training for Title IX (for up to 1500 students at a time!) has given me that experience.
One of my current projects includes organizing a Research Symposium that will bring together faculty and graduate students at UCSC who have conducted research on SVSH. The goal is to highlight this work, bring researchers and other campus and community stakeholders in conversation with each other, and learn how we can use this research to better inform our prevention and intervention efforts around SVSH. If you're interested in the Symposium, please feel free to reach out to me at skau15@ucsc.edu. 
During my free time, I love watching Netflix and drinking iced lattes!
Chloe Zhang 
Statistics
She/her/hers
I'm a second-year grad student in the Statistics department. My research interest includes using data science for positive social impact. After seeing the power of advanced technologies like AI in scaling productivity and lifestyle, I hope there will be more technologies used for social good. 
In the past, I've volunteered at Women Resources and Research Center at UC Davis and have seen the impact of sexual violence and sexual discrimination on the community. I was also empowered by many women who inspired me to raise more awareness of SVSH related issues. I want to focus on how to engage the community with the Title IX office and on how to increase our presence. The Title IX office is a safe place not only for members of our community to report incidents but also a place for resources and collaboration. 
During my free time, I like hiking and exploring different places. 
Olivia Wilms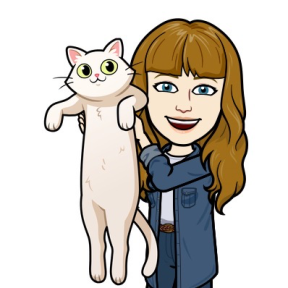 Ecology and Evolutionary Biology
She/her/hers
I'm 3rd-year undergraduate studying biology and I'm interested in contributing to a cultural climate in science that is inclusive and safe. Currently, I am working on the Building A Better Fieldwork Future program with CAMINO (the Center to Advance Mentored, Inquiry-Based Opportunities), a program oriented towards providing training for preventing sexual harassment and assault in scientific fieldwork settings. 

Initial experiences with fieldwork can be inspiring and memorable for early-career scientists. However, sexual harassment in fieldwork settings can deter early-career scientists from continuing scientific careers. I am interested in research being done on sexual harassment in fieldwork settings and how these settings' unique properties -- remote location, blurry boundaries, and hierarchical nature -- all can amplify the damaging effects of sexual harassment and assault. I am also interested in how survivors are impacted by physical and emotional distance from safety, feelings of helplessness, fear of consequences to their careers, and not being believed by their peers or scientific community. 

Through my work with the Building a Better Fieldwork Future program, I have trained highly motivated leaders in a variety of scientific fields and at different academic and research institutions to promote positive organizational climates within their teams. 

In my free time, I like to hike and have been learning how to bake cakes.
Contact us at 
Email:t9intern@ucsc.edu
We are also on social media: 
Stay tuned for more information!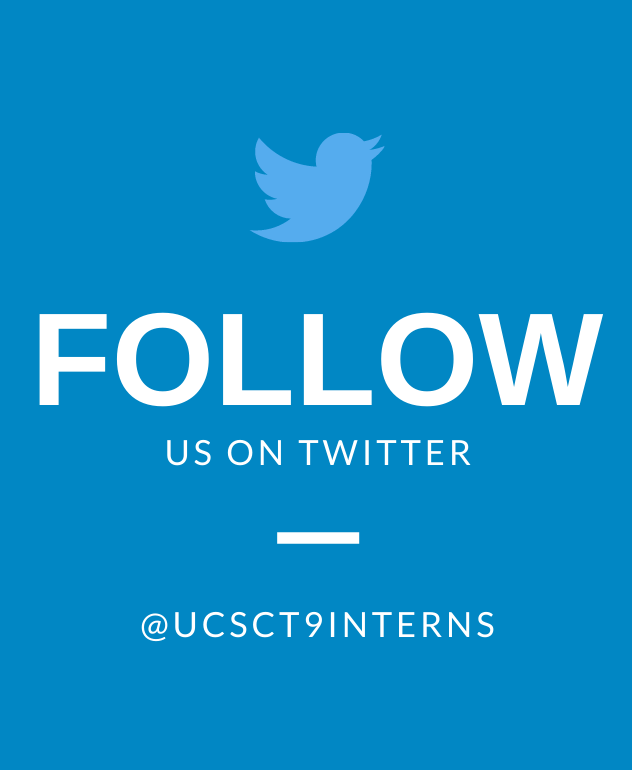 Twitter: @ucsct9intern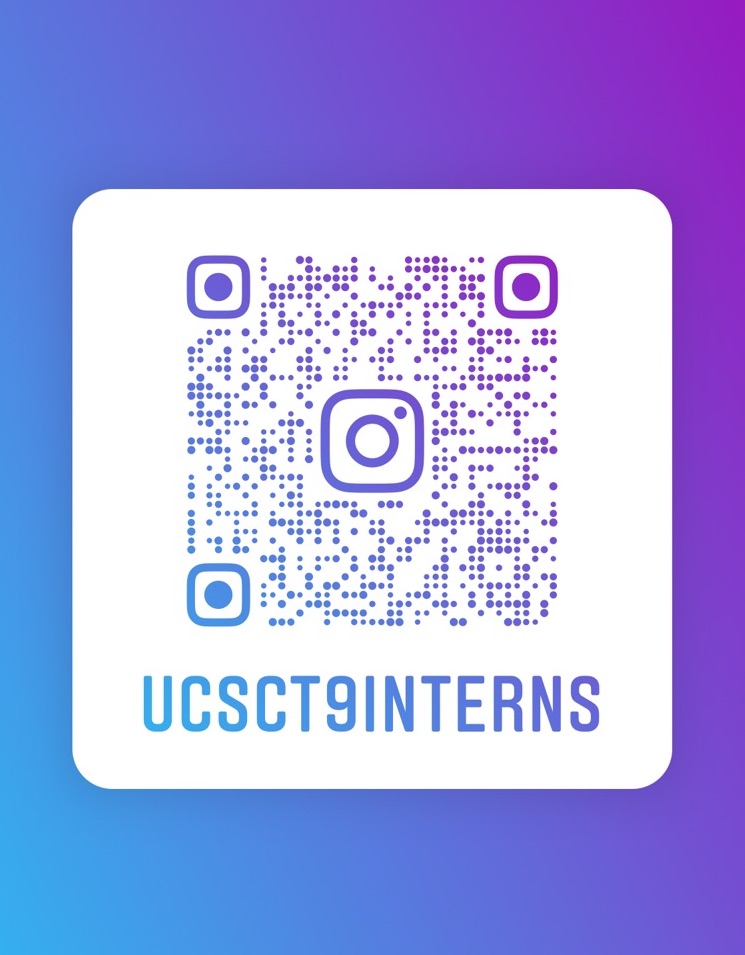 Instagram: @ucsct9interns
Check out the post about our past interns