What is Reportable to Title IX?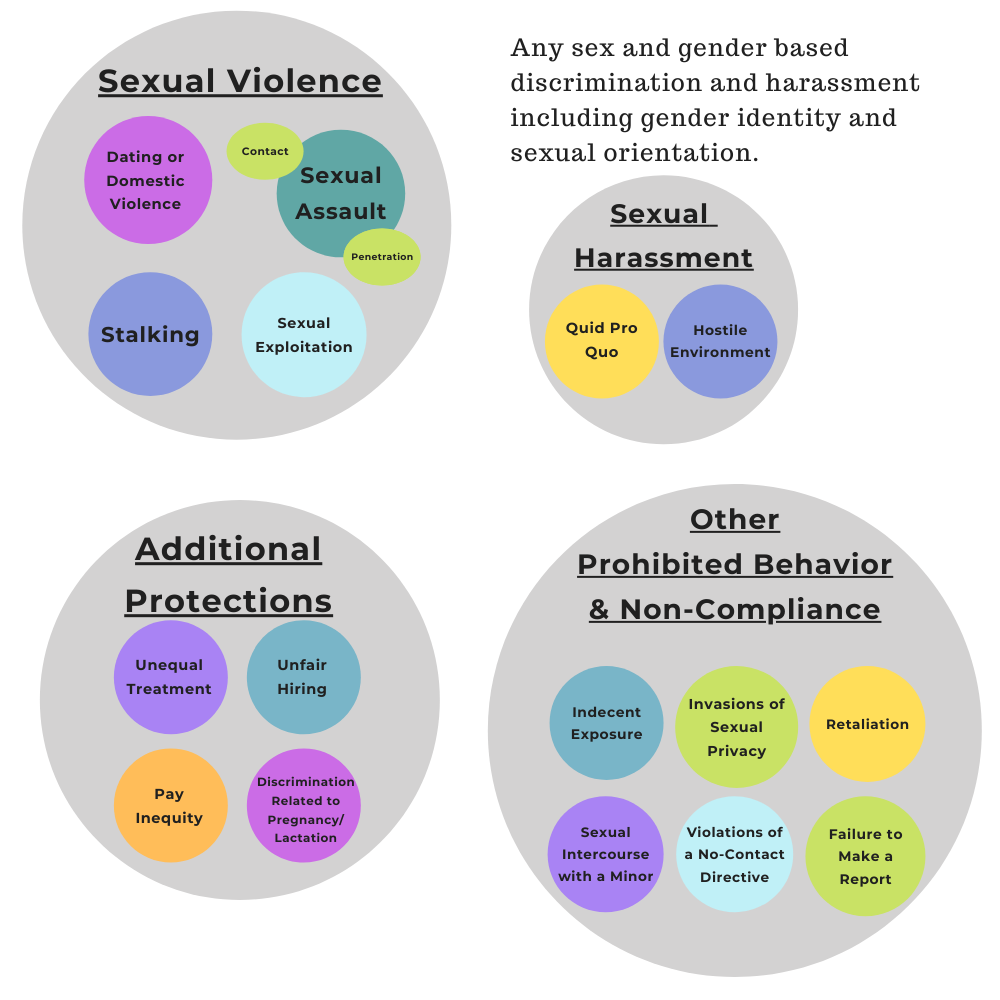 Title IX responds to reports of sexual violence, sexual harassment (SVSH), other prohibited behavior and non-compliance under the SVSH policy. Additionally Title IX can respond to any sex and gender-based discrimination/harassment that may not be included in the SVSH policy.
For complete definitions see the SVSH policy.
Sexual Violence

Stalking
Relationship violence
Sexual Assault

Contact (touching of intimate body parts) without Consent

includes contact above or beneath the clothing

Penetration without Consent

Sexual Exploitation

The

trafficking or prostituting

of another person.

Providing false or misleading information

about sexually transmitted infections, birth control, or prophylactic status in order to induce another person to participate in a sexual act.

Giving alcohol or drugs to another person in order to

engage in one of the prohibited behaviors we covered.

And

actively assisting another person in committing prohibited conduct
Other Prohibited Behavior and Non-Compliance


Indecent Exposure
Invasions of Sexual Privacy: viewing and/or taking or sharing photos/videos of intimate body parts without affirmative consent
Retaliation
Sexual Intercourse with a Minor
Violations of a No-Contact Directive
Failure to Make a Report
Additional Protections


Discrimination Related to Pregnancy/Lactation and requests for accommodations
Unfair Hiring
Unequal Treatment
Pay Inequity

For more information on how to make a report, visit Reporting to Title IX.