Reporting to Title IX
If you are in an emergency situation, call 911 immediately.
Anyone can make a Title IX report using the
online reporting form
or by calling (831) 459-2462.
For questions about reporting and the UC Sexual Violence and Sexual Harassment Policy call (831) 459-2462 or email
titleix@ucsc.edu
. 
---
What is Reportable to Title IX?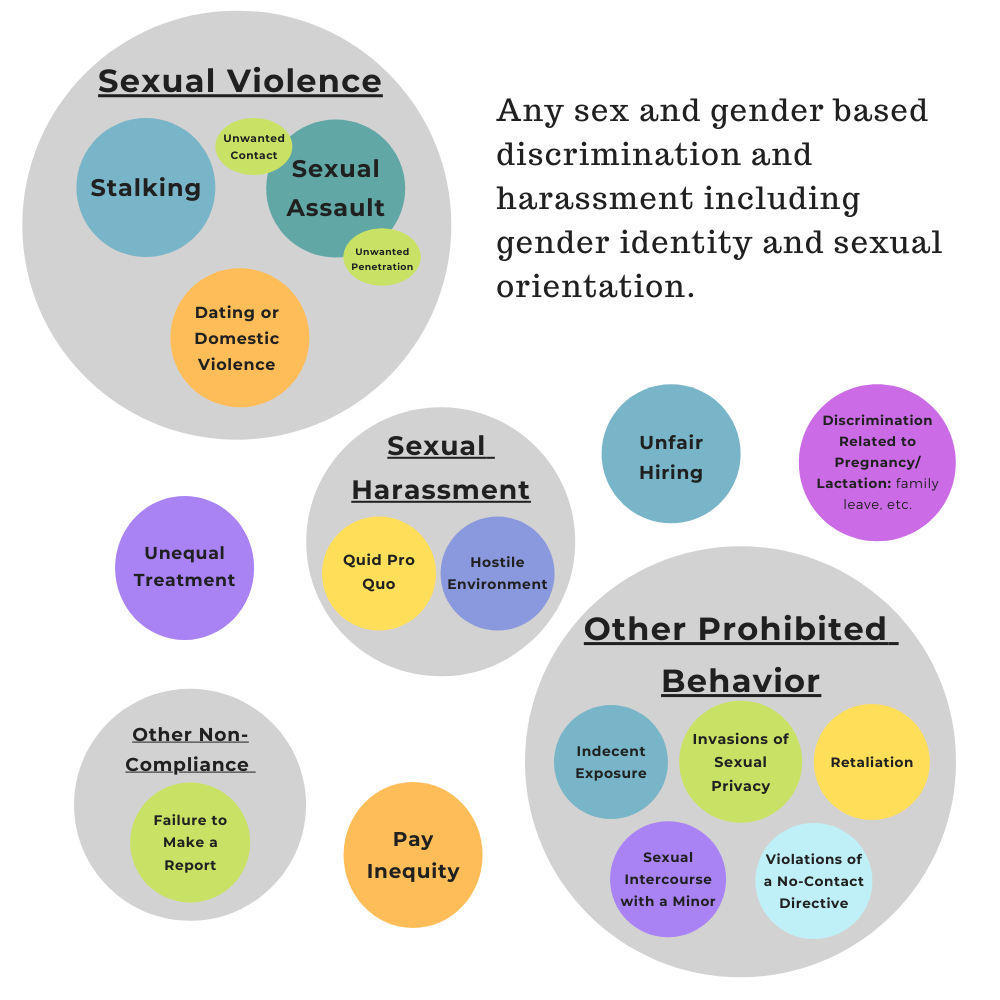 Title IX responds to reports of sexual violence, sexual harassment (SVSH), other prohibited behavior and non-compliance under the SVSH policy. Additionally Title IX can respond to any sex and gender-based discrimination/harassment that may not be included in the SVSH policy.
For complete definitions see the SVSH policy.
Sexual Violence

Stalking
Dating or Domestic Violence
Sexual Assault

Unwanted Contact (includes contact above or beneath the clothing)
Unwanted Penetration
Other Prohibited Behavior


Indecent Exposure
Invasions of Sexual Privacy: viewing and/or taking or sharing photos/videos of intimate body parts without affirmative consent
Retaliation
Sexual Intercourse with a Minor
Violations of a No-Contact Directive
Discrimination Related to Pregnancy/Lactation and requests for accommodations

Unfair Hiring
---
What happens after a report  is made to the Title IX Office by a third party, mandated reporter/responsible employee?
The Title IX Office will provide outreach to the complainant and share resources. The complainant is under no obligation to respond to Title IX. 
The complainant is the party who has alleged misconduct and/or who is requesting support (such as pregnancy or lactation accommodations). 

Title IX's outreach will include confidential resources and an invitation to meet to discuss their concern. 
What options are available to the complainant? How can Title IX assist/support a complainant?
The Title IX Office will work with the complainant to determine the best response to the concern.

A complainant may request supportive measures, such as changes in housing, employment, academic support, and transportation etc., with or without a formal process. 

A complainant may request a

no contact directive

, a lawful directive issued by a University official that prohibits contact between two or more parties.

In addition to providing supportive measures, Title IX may assist with an alternative resolution or conduct an investigation to determine whether a violation of policy occurred. 

A Confidential Advocate and/or support person can accompany a complainant to meet with Title IX.

A complainant may also choose to make a

report to law enforcement

  by calling (831) 459-2231 ext 1 or

911

and request assistance from the university to do so. 
What rights do complainants have with regard to Title IX procedures implemented in response to reports of sexual violence or sexual harassment?
After an outreach has been done, the complainant may choose whether or not to respond to the Title IX Office.

 

If a complainant is interested in support from the Title IX Office, the complainant may choose to request an alternative resolution or a formal investigation in response to his/her/their report. 

Exceptions: when the Title IX Officer determines that the allegations require an investigation to mitigate a significant risk to the individual and/or campus community

Even in those circumstances, the complainant may choose not to participate in the investigation.
Responsible employees must maintain the privacy of the complainant and will only discuss the report with the Title IX Officer and if appropriate, with his/her/their own supervisor. 

Prior to an investigation, the Title IX Officer will only discuss the incident with parties that need to know in order to establish safety measures, initiate accommodations and to implement no contact directives. 

If interim measures are needed, a minimum of information will be discussed with need to know parties but the details of the report or the type of Title IX report will not be revealed.

All reports of sexual harassment and sexual violence will be handled privately to the extent permitted by law and by University policy and procedures.
Before, during, and after an alternative resolution or formal investigation process, complainants may request changes to academic, living and working status, and transportation conditions or other interim protective and remedial measures. 

The University may provide such measures if the complainant requests them and if they are reasonably available. 
No contact directives are administrative directives which direct both parties to avoid contact with the other. 

Can include third party contact as well as phone, text, and social media. 

No contact directives are issued by the university and do not have the force of law. 

They can be issued by the Title IX Office when related to sexual violence and sexual harassment. For more information about no contact directives, contact the

CARE Office

or

Title IX

.  
Retaliation is a prohibited conduct under the UC Policy on Sexual Violence and Sexual Harassment and Title IX will work with the appropriate office to prevent and address retaliation. 

Retaliation includes: threats, intimidation, reprisals, and/or adverse employment or educational actions against a person based on his/her/their report of prohibited conduct or participation in the investigation.
To encourage reporting, and because alcohol and drugs are often involved in sexual violence reports, neither student complainants nor student witnesses in an investigation will be subject to discipline for violations of the student conduct policy at or near the time of the incident with a few exceptions:

Conduct placed the health or safety of another at risk

Plagiarism, cheating, or academic dishonesty

Egregious conduct, such as the sale of drugs or providing alcohol to an under-aged person. 
All UC employees, that are not confidential (CARE, CAPS, and the EAP), are required to report sexual harassment and sexual violence to the Title IX Office if a student reports to them. 
Faculty, Deans, and Supervisors are additionally required to report sexual harassment and sexual violence reported by faculty and staff.
The Title IX Office encourages staff and faculty to disclose their reporting obligations prior to receiving a report whenever possible and to promote awareness of confidential resources, see sample course language (for a syllabus or course overview presentation).